PathPresenter Surpasses 50,000 Global Users
Montville, NJ – PathPresenter, the global image sharing platform for pathology, today announced that their free public platform (https://pathpresenter.net/) now has more than 50,000 registered users in 172 countries. Nearly 7,000 users have joined the pathology image sharing community in the past 12 months.
Founded by dermatopathologist and digital pathology innovator, Dr. Rajendra Singh, PathPresenter has become the go-to, on-line community for pathologists, residents, fellows, scientists, and researchers who want to easily upload, view, and share whole slide images with their colleagues, as well as access curated image datasets from trusted experts. With over 100,000 hours of real-world usage, users have embraced PathPresenter's best-in-class, lag-free imaging performance, super-easy sharing of images with colleagues (through URL links and/or QR codes), and the platform's pathologist-built functionality.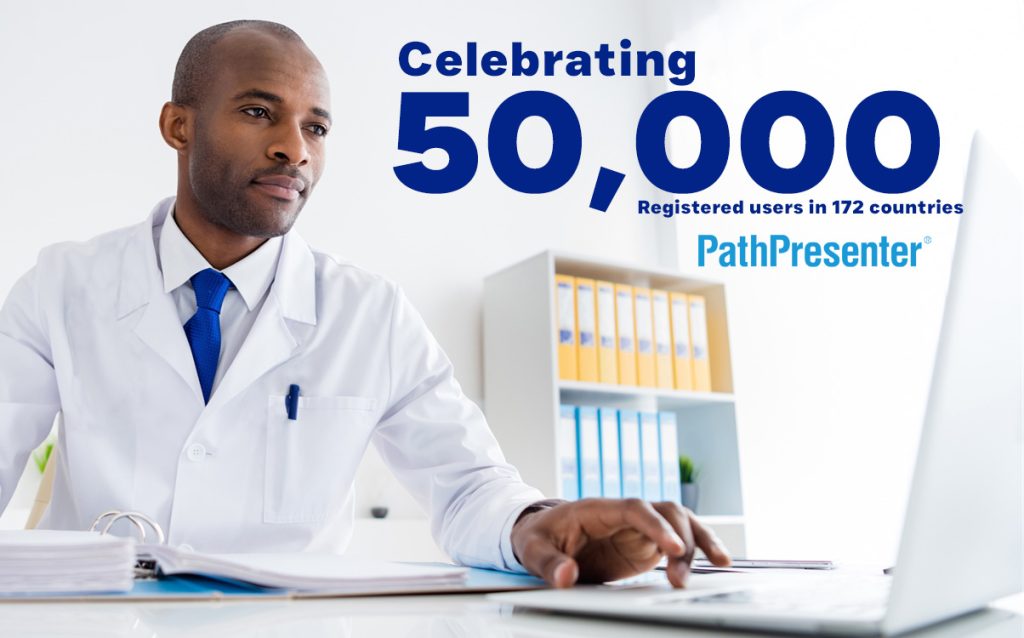 The viral popularity of PathPresenter public has helped spur the adoption of PathPresenter's robust and secure enterprise platform at tier-one institutions, becoming one of the fastest growing digital pathology enterprise workflow platforms for use in clinical care, education, and research. The "instant familiarity" of the PathPresenter platform and brand – used by pathologists at almost every major hospital in the world – translates into higher rates of adoption and user enthusiasm among pathologists and therefore a higher return on investment for institutions implementing new digital pathology enterprise workflows.
"Within 5 years, the majority of the world's 1 billion glass slides produced each year will be digital. PathPresenter is building the roads and bridges to enable petabytes (soon to be exabytes) of digital pathology images to flow easily and securely within and between institutions to advance patient care, research, and pathology education," said Patrick Myles, Chief Executive Officer of PathPresenter. "I would like to thank our community of 50,000+ PathPresenter users around the world for their unwavering support and their continued valuable input into the platform."
"It is the feedback from great colleagues from around the world that has helped us build practical workflow solutions to use digital pathology in all three pillars of our work: clinical care of our patients by providing accurate diagnosis with prognostic information, educating new pathologists, and accelerating research for better care of patients," added PathPresenter founder, Dr. Rajendra Singh. "We will continue to work tirelessly with colleagues, institutions, and other vendors to ensure we can truly revolutionize our field and make it the center of personalized medicine."
About PathPresenter
PathPresenter is the global image sharing platform for pathology. We are on a mission to help democratize access to the world's pathology knowledge by connecting pathologists to the vast expertise of their colleagues globally and providing a practical platform to access and use best-in-class AI models. Founded in 2017 by dermatopathologist and digital pathology innovator, Dr. Rajendra Singh, PathPresenter has been adopted by 30+ tier one medical institutions for clinical care, education, and research, and has built a thriving community of 50,000+ users in 172 countries to easily view and share digital pathology images and knowledge. Learn more about pathpresenter.com.
PathPresenter is available for primary diagnosis in the US during the COVID-19 public health emergency. In other countries, PathPresenter is intended for research and educational purposes only.
Contact Details
PathPresenter
Cory Batenchuk – SVP of Operations
+1 873-355-9913
cory@pathpresenter.com